Welcome to the most comprehensive list of resume tips on the web, period.
Since we critique resumes on a daily basis, we wanted to challenge ourselves to see how many resume writing tips we could come up with together, and organize them for job seekers to use.
We reached 103! Here's the result — a massive list with links to some of our favorite career related websites. If you have more ideas to add, we'd love to make this list as comprehensive as possible — and we'll be happy to give you credit.
Folks — check your resumes for these mistakes!
Also, download this list in the form of a printable checklist to guarantee your resume isn't missing a thing! Just click this button:
Click Here to Download Our
103 Resume Writing Tips Checklist
Or, download our more compact resume checklist:
Click Here to Download Our
Resume Checklist
---
Resume Tips Table of Contents
RESUME SECTIONS
1. Missing Contact Details
Remember to include all of these details:
Full name
Address (Street Address, City, State, Zipcode)
Phone number (Home and Cell)
E-mail Address (Personal)
2. Missing "Introduction" section
The way that you begin your resume will have a lot to do with what stage your career is in, whether you are an entry-level candidate, a professional, in the midst of a career change, and other variables.
Here are three ways people begin their resumes — each has its own unique spin on how to grab the hiring manager's attention.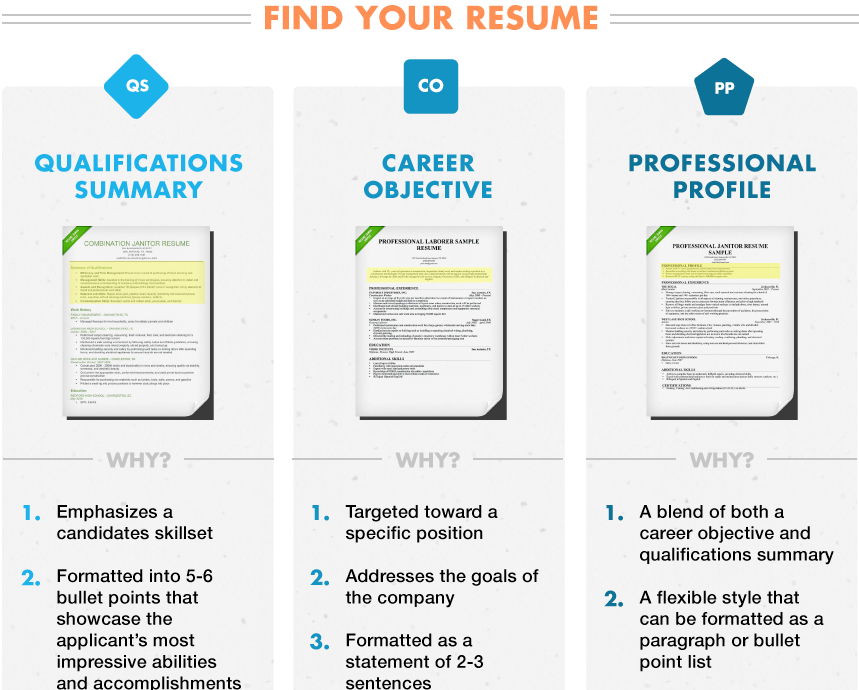 Here's a great article from TalentEgg about different ways you can begin your resume.
3. Missing "Professional Experience" section
This section is the heart and soul of your resume, so don't forget to include it. The most important thing to remember about this section is that it needs to be "achievement oriented". This means that you're using your experience to prove to the hiring manager that you're more than just a drone who can complete tasks, but have the motivation to do more, and accomplish more.
4. Missing "Education" section
You spent all that money on your education, so don't forget to include it! The placement, size, and content of this section will vary depending on how recently you've been in school. Read this comprehensive guide to find out how to write this section properly.
5. Missing "Skills" section
Again, you can label this section in many ways. "Additional Skills" "Related Skills" "Career Skills" "Professional Skills", etc. This section should be targeted at the job that you are applying for. Even if you are capable of playing guitar, you should not include that skill if you are applying to be a chef! At the same time, think about including transferable skills that can be appreciated across industries.
6. Missing industry relevant "extras" sections
We've grouped several "extras" sections into this one, because there are many that you could potentially add that would make your resume more convincing. These are just a few:
Licenses and Certifications
Publications
Professional Affiliations
Professional Memberships
Awards and Recognition
Portfolio
7. Optional: Include Linkedin Link
If you have a Linkedin profile, feel free to include it in your contact details. Linkedin is somewhat hyped up, and isn't really necessary to have, but it can assist job seekers and giving hiring managers a deeper impression of who you are (always a good thing, as they'll be more likely to remember you.)
8. Optional: Include Twitter Link
If you have a professional Twitter account, consider linking it as well. Personal accounts should not be linked, however, as they are not relevant. Those of you who work in web related industries, or perform social media tasks for a living, should seriously consider including the link.
9. Don't include Facebook/Google+/Instagram links
Remove links to social media sites which are not job related. Although it may seem like a friendly invitation to let the hiring manager know something about you, it's a bit too much. Social networking is for networking, not resumes.
SPELLING AND GRAMMAR ERRORS
10. Misspelled own name
This is not a case of Stephanie being spelled Stefany. This is a case of "Angela" being spelled "Bnglae". Misspelled names is probably in the top 5 errors we see. It's difficult to fathom, but there it is.

11. Did not spell check the entire resume
Misspelling your name is one thing. Misspelling other words in the body of your resume is another thing. Even the most confident writer is prone to human error and thus making typos. At the minimum you should triple check your resume for spelling errors. Optimally you will also have a friend proofread it as well.
12. Did not ask someone to proofread your resume
Even the most obsessive resume writers are prone to making a mistake or two. Also, it can be very difficult to write about oneself in an overly positive light for some individuals. Getting a friend to proofread your resume for you will should help you identify strengths and weaknesses you may otherwise be blind to.
It's always great to get a second pair of eyes to examine a document as important and consequential as a resume.
13. Forgot to use action verbs
Not including action verbs doesn't mean a resume is bad, but it does suggest that the resume is a bit bland. Don't write like a robot, write like a sales person. Don't simply state "As policy I followed customer service protocol". Instead start with a captivating action verb such as "Enforced all formal customer service protocol". Other great action verbs include "managed", "allotted", "designated" or "architected". Use this giant list of action verbs to sprinkle your resume full of powerful action verbs.
14. Periods inconsistent
Whether you do or do not add period at the end of your bullet points is up to you. The thing that matters most is making sure that they are consistent throughout. If you use periods, put periods on every single bullet point — and vice versa.
15. Numbers written incorrectly
Numbers from 1-9 should be spelled out (one, two, three, etc). Numbers 10+ should be written numerically (11, 12, 13, etc.)
This is English 101 more so than it is Resumes 101, but the fact is that incorrectly written numerals can make a resume look unprofessional and childish.
16. Resume uses adverbs like "quickly" or "efficiently"
Adverbs look and sound childish. They aren't convincing, and don't really give the hiring manager more information about what you did. If you want to convey that you were quick and efficient at a job duty, you should use numbers and figures to prove your point, not meaningless words that are assumed anyway.
AESTHETICS & FORMATTING ERRORS
17. Includes "USA" in Address
If you live in the United States, and are applying for a job in the United States, you do not need to include "USA" in your address. It's not a major error, but it's one of the most common ones.
18. Written in all caps
One of our favorite mistakes, suddenly ORGANIZING FILING CABINETS HAS THE APPEAL OF A DEATH METAL ALBUM. The hiring manager is a delicate creature, don't scare them away with your loudness.
19. Resume is more than 2 pages
While most people find it difficult to find enough positive things to say about themselves to fill one page, some people have the opposite problem. There are very particular circumstances when a 3 or 4 page is acceptable, pretty much exclusively for senior executives and academics with publications. Everyone else should easily be able to condense their relevant experiences down to two pages.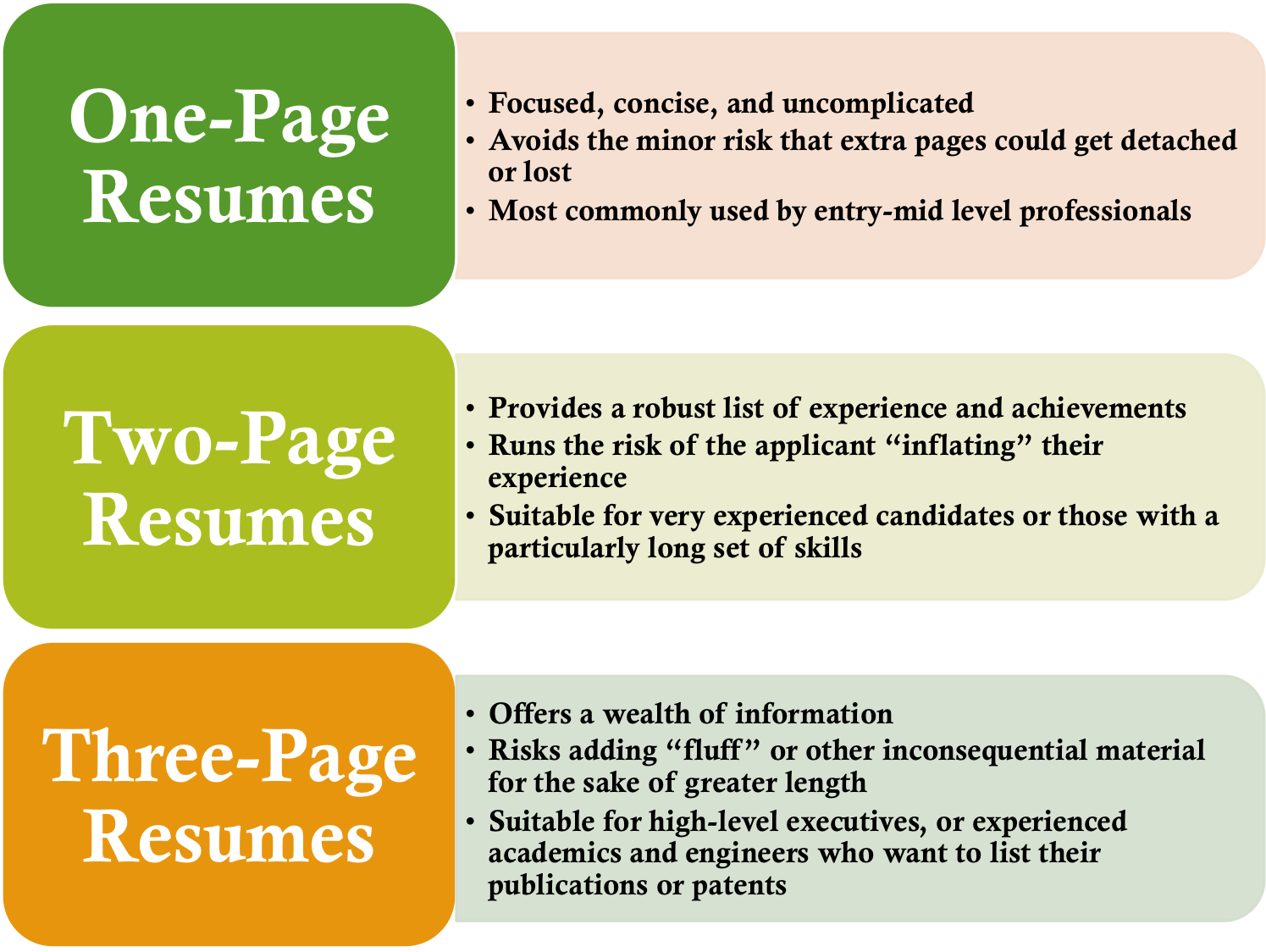 20. Lists too many experiences
Yes, one-page resumes are optimal as there's no need to worry about the reader getting bored or losing the second page (however two-pages can also be acceptable in certain situations).
The reason most resumes become "boring" is because they actually list too much unnecessary information. Most people making the mistake of listing every single professional experience they have ever had when actually they only need to list the best of their most relevant experiences.
21. Includes ancient experiences
A general rule of thumb is to only include experiences as far back as 15 years. Anything that occurred before that time isn't really relevant anymore, unless it included a very notable achievement. Keep your resume updated and current with only your most recent applicable experiences. Nobody cares that you graduated from high school in 1972, they care about what you've been doing the last 10 years.
22. Not written in reverse-chronological order
Your work experience should always be listed from newest to oldest. Simply put, your newest work experience is the most relevant, and is likely to leave the biggest impression on the hiring manager.
23. Not written in preferred format (IE. Federal / Specific Company Request)
Always follow instructions. Some companies are very particular about how your resume should look, and what information they want to see. Federal resumes are notoriously difficult to write. If you want to get a job, don't be careless about your application.
Here are some federal resume writing tips from the Department of Homeland Security themselves.
24. Chose an inappropriate resume format
Believe it or not, you need to carefully choose what format to write your resume in. The reverse-chronological resume format is the most popular, listing your newest experiences to the oldest.
However, if you have employment gaps, you should be writing a combination resume or a functional resume. Choosing the wrong format can work against you, as the wrong choice may fail to present your experience in the best light.
25. Placed resume sections in the wrong order
It's tempting for college students and recent graduates who do have internship or entry-level experience to put the Professional Experience section ahead of their Education section. Actually, believe it or not, your educational experience is still more relevant than your professional experience.
Meanwhile, your contact details should always be at the beginning of your resume, and your skills section and "extras" near the end.
26. Only wrote one version of your resume
Most people write a "one size fits all" resume for every job they apply to. This is suboptimal, as job roles are too varied for a single resume to work.
You can increase your chances of landing an interview by customizing your resume to fit the position being applied to.
You can increase your chances of landing an interview by customizing your resume to fit the position being applied to. This doesn't mean writing completely new resumes, but instead just tweaking aspects of your resume like the career objective, professional experience bullet points and additional skills to be more focused.
27. Forgot to write for Applicant Tracking Systems (ATS)
Many larger corporations use ATS to help sort the the thousands of resumes received on a regular basis. An ATS can "read" resume files and search for keywords and key phrases relevant to the position they are hiring for.
Here's an in depth article about how to beat an ATS system.
28. Includes images and other "artifacts" that can break ATS
ATS software is pretty fickle. It can't read images or certain symbols properly, so it's best to just keep your resume as simple as possible. Including images on your resume is unprofessional in any regard, so you'll be doing yourself a favor.
29. Resume is too fancy
Don't use word art, clipart or colored backgrounds like this. You may think these things will help you stand out, and you'd be correct, but not in the way you want. These sort of cheap decorations will ruin your professional credibility and almost certainly result in your resume being trashed. Kerry Hannon on Forbes makes the case against the fancy resume.
30. Resume overly formatted
Some folks go overboard with formatting their resumes, making font changes for every new header and subheader, adding unnecessary lines, and generally making a mess of the resume. Like a Christmas tree with too many ornaments, it just looks tacky and hard to read.
31. Resume under formatted
On the other hand, you shouldn't under-format your resume. Your headings, sub-headings, and bullet points shouldn't run into each other and look similar. Recruiters need to be able to quickly look at your headings, understand exactly what job you did, and how long you did it for. If headings aren't distinguishable, your resume will be an eyesore.
32. Fails to use accurate and descriptive job titles
Employers want to know at a glance what job position you held, and what your responsibilities were. Be direct and descriptive with your titles so the reader instantly knows what they are describing.
For example, a bad title would be "Marketing", a better, more descriptive title would be "Digital Content Marketer w/ Social Media Specialties".
33. Did not use bullet points
Time and time again people shoot themselves in the foot with poor formatting. One of the most common types of bad resume formatting is the lack of bullet points when listing experiences, skills and achievements. Writing these sections in paragraph form looks messy and doesn't communicate your achievements clearly. Use bullet points.
34. Failed to pay attention to font style and size
Even the most qualified and best formatted resume will fail to land an interview if the font is too small to read or unprofessional. Size 12 font is optimal. Do not use excessive capital numbers or overly stylized fonts, as they will detract from the substance of your resume. Arial and Times are good standards.
Read this article on resume aesthetics, font, margins, and paper selection to make the most attractive resume possible.
35. Failed to properly manage whitespace
The impression a resume makes is not only about the formatting style of the text itself but also how that text is spaced about and arranged on the page. Just as you should avoid having excessive blank or "white" space you should be equally concerned about not having enough white space.
36. Forgot to list multiple positions within the same company
Too many people think they only are supposed to list their highest achieved position for any given experience. This is not true, and actually, showing multiple positions under the same experience is an indication of hard-work and a promotion-worthy employee. List your titles acquired as you advanced up a company.
The exception to this will be on older experiences and less relevant experiences, which don't require much explanation beyond the most recently held title.
37. Relied too heavily on a resume template
A simple Google search will return with tens of thousands of resume samples and templates, some of better quality than others. While this is a great resource for gathering inspiration when writing your resume you will still have to actually compose your own resume from scratch. Simply inserting your own name and experiences isn't enough. A resume is too important to be done simply with "cut and paste".
38. Resume should use a Qualifications Summary
If you have a lot of professional experience, consider using a Qualifications Summary instead of a Career Objective. The Qualifications Summary allows you to place all of your greatest achievements and qualifications right at the top of the resume, where the hiring manager will see it first. Only having a Career Objective may be underselling yourself.
39. Resume uses bad coloring
Coloring is acceptable to employ on your resume, but make sure to choose easy to read colors that don't become eyesores. Generally speaking, just choose a single color for the headings, and black font for the subheadings and bullet points. Otherwise, your resume may be hard to read, look tacky, and be generally off-putting.
40. Resume is written like a CV
CV stands for "curriculum vitae", which means "course of life" in Latin and is generally the preferred application document in English-speaking Europe. CVs are generally more in-depth documents of multiple pages and are written in a more general voice. Resumes are shorter, more concise documents usually limited to one-page that serve as a brief summary of your skills and experiences.
BULLET POINT ADVICE
41. Weak bullet points displayed before strong ones
Which do you think a hiring manager cares more about – your ability to write and present reports, or generate higher than average sales on a monthly basis? (It is, of course, the latter.) People tend to mix in the stronger bullet points with the weaker ones. All that does is make them blend in. Make them stand out by placing them at the top of your bullet point lists.
42. Repeats bullet points
This mistake is reminiscent of the college student who shrinks the margins and increases font size to reach the page limit. Your resume is not about quantity, it's about quality. Here's the rule of thumb – if you knew how to do it in one job, you probably didn't forget how to do it at your other job.
The rule of thumb is to write a maximum of 5-6 bullet points per work experience, with a minimum of 3.
43. Has irrelevant bullet points
Are you applying to be a programmer? Then why does your resume emphasize your ability to flip burgers and operate a cash register?
44. Has short bullet points
Example: "Cleaned bathrooms". Alrighty then – how large was the area you cleaned, what did you clean it with, did you clean anything else?
45. Has too many or too few bullet points
The rule of thumb is to write a maximum of 5-6 bullet points per work experience, with a minimum of 3. Too few and it looks like you didn't do much, and too many indicates you're just including fluff.
CONTENT ADVICE

46. Skills section too generic
Almost everyone includes having "communication skills" on their resumes. The truth is that including soft-skills like communication is ok, so long as it's being bolstered by hard skills, like the ability to use software, hardware, make repairs, perform calculations, fly a plane, or do brain surgery. Here are the top skills that employers hope to see on your resume.
Most importantly, any additional skills you include should be relevant to the job you're applying for.
47. Achievements not quantified
Just saying you increased revenue or raised efficiency isn't enough to stand out against competitors. Instead, make your resume jump out and catch the employer's eye by including numerical quantification for your achievements.
For example, writing that you "increased revenue by over $10,000 annually" or "increased efficiency by 35%" sounds much better than simply saying that you increased revenue or efficiency without numerical evidence.
48. Information not listed in order of importance
Resumes are documents that require strict ordering if they are to convey the most important bits of information effectively. Firstly, the entire document should be ordered according to importance.
For example, if you are a recent graduate, your most important experience is your education and should thus be at the top, not your part-time work experiences. Also, within sections start with your most important bullet point and end with the least.
49. Responsibilities written too vaguely
Including information that was "expected" of you in your former position and that does not go above or beyond normal expectations for the positions won't stand out to potential employers.
"Assisted CEO in the planning of daily activities" is a horrible bullet point as it doesn't describe responsibilities or skills. Instead, consider "Scheduled appointments, managed budget and enacted CEO directives".
50. Acronyms not spelled out
When you work in an environment where everyone knows jargon, it can be difficult to remember that people outside of that environment have no idea what you're talking about. Military types are especially vulnerable to this mistake. Assume the hiring manager is completely ignorant – even if they are in your industry.
51. Gap in work history not explained or concealed
If you have gaps in your work history, you should assume that people will assume the worst about you. They'll think that you're a drug addict, or unreliable, or unlikable, or unemployable for some other similar reason. Even if all of those things are true, you're going to have to use some resume writing strategies to cover up those employment gaps and make the hiring manager feel better about you.
Here are several strategies you can use to explain and conceal employment gaps.
PROFESSIONALISM TIPS
52. Email address is not professional
You'd think the person behind angry_doofus@gmail.com would understand the concept of professionalism, but frequently, he/she does not. Best to stick with some variation of your name, or something that seems official.
53. Used a university email account
Don't use your university email account, especially if you're about to graduate. Your school will mercilessly delete your account, and any job related communications you had within will be lost.
54. High school should be removed if you attended college
The only time it's acceptable to include your high school in your resume is if you did not attend some form of higher education. Even if you only attended a single semester of college, it still trumps putting your high school on your resume. This is because attending college implies that you attended high school.
55. Used too many personal pronouns
You generally want to use as few personal pronouns "I", "Me", "Myself" etc, as possible. A resume is a personal professional document, so including personal pronouns is simply redundant. If you can eliminate them altogether that is optimal.
56. Resume unnecessarily negative
People shoot themselves in the foot all too often with their own writing. Don't use passively negative words to describe your work, such as "tried" or "attempted". Also, you don't have to explain why you left or were fired from your last job, or why you have a gap in your work experience because of family matters. Keep your resume neat, clean and positive.
57. Included a picture
The only profession where it is acceptable to include a picture with your resume is modeling/acting. Any other profession will almost definitely instantly trash a resume sent with a picture, as this indicates unprofessionalism and failure to understand formal employment processes.
58. Too obvious that you are an older or younger applicant
If you are over the age of 50 and worried about age discrimination then take some actions to better disguise or obscure your true age. For example, you don't always have to include graduation dates of your educational experience.
Candidates who are younger are also at risk of experiencing age discrimination, as the employer may assume that you are immature, unreliable, or too inexperienced, even if those things are all not true.
59. Written in the wrong language
If you are applying to an English based job from overseas, don't forget to write your name phonetically in addition to its native spelling. For example most HR's will have no way of knowing who 李先生 is but they will be able to remember and file correctly a "Mr. Lee's" resume.
60. Lied on your resume
In case your mother never taught you, lying isn't worth the effort, as they almost always catch up to you. Just look at Yahoo's ex-CEO Scott Thompson to see how even the most successful resume lies can eventually bring your career crashing down. Don't take the risk — you can make your resume attractive by simply polishing up the truth in an attractive manner.
61. Included salary on your resume
Those are the mistakes that we are constantly correcting on newly written resumes. Statistically speaking, if we see them all the time, then you've probably committed at least a few of those mistakes. Give your resume another look-through, and be certain that you're putting your best foot forward.
62. Used poor quality paper and a bad printer
There is not worse way to ruin a resume you spent hours tediously crafting then to print it on flimsy cheap paper. Instead, invest in some quality paper stock, something a bit heavier, and perhaps slightly off-white in color, as to stand out better in a stack of other plain white documents.
Also, make sure your ink level is full and your printer is operating at 100% when printing your resume. Blurred letters, faded type or ink spots will ruin the professional appearance of what MUST be a very professional looking piece of paper.
63. Failed to "name-drop" when it could benefit you
If you worked with a "mover" or "shaker" within your industry, don't' be afraid to mention his or her name on your resume and/or cover letter. Name associations can be powerful tools. For example, if you were a personal secretary to a notoriously demanding top exec., include it on your resume, as this will show to employers who know of this person just what you are capable of.
64. Used slang or jargon
You should always write your resume assuming the reader isn't familiar with slang or jargon you might have used in previous positions. Even if the job is in the same industry its dangerous to use technical jargon as different people may refer to the same thing with completely different jargon.
Instead, write technical or industry terms in dictionary-like plain speak to guarantee all readers of your resume will understand what you are trying to communicate.
65. Forgot to write with email and software versions in mind
While most people just attach their resume to their emails in a .doc format it's worth considering including a plain text version that you can insert in your actual email after the introduction and body of the text. The reason for this is that some spam filters will automatically remove attachments.
Also, besides just attaching your resume in a .doc or .docx format, consider also attaching it as .PDF file as PDF's will retain your formatting regardless of how they are viewed.
66. Refused to seek outside help
For some, no matter how many guides or samples they review writing a resume is just not something they have the skill for. If you happen to be one of these people you are better off acknowledging your shortcoming and seek out help than to just settle for a mediocre resume.
If you absolutely can't write a resume consider seeking out a professional resume writer or for economical approach try finding an online resume builder tool instead.
67. Resume is in bad shape
During your interview, you'll need to bring in copies of your resume to discuss with the interviewer(s), in case they did not print their own copies. It's poor form to take out crumpled, torn, stained, or folded pages. Make sure you've got new, crisp, clean copies for them to look at.
68. Resume has a "selfish" sounding Career Objective
When writing your Career Objective, make sure that it doesn't sound like this: "CPA with 4+ year experience looking to boost my career at (Company Name)."
Actually, your Career Objective should be about what you can do for the company. Try something like, "CPA with 4+ year experience looking to leverage in-depth knowledge of international tax law and management experience into a supervisory role at (Company Name)."
69. Resume (in application form) should not be an infographic
Although this could depend on the industry, it's safe to say that most hiring managers want to read a simple, well formatted resume, and not an misguided infographic. Infographics are handy for turning complex data into a simplified visual experience. Here's the thing — resumes aren't really complex, so by visualizing them it actually makes them less immediately understandable. Alison Green from askamanager.com agrees: it's a terrible idea.
However, by all means, include an infographic resume on social media, and direct hiring managers towards it. That is fair game.
70. Resume includes "References Available Upon Request"
It goes without saying that you will provide references if they are requested, so this is a waste of space to include on your resume. Hiring managers will view it as a newbie mistake.
71. Resume includes family members as references
Some job postings will request a few references to be included with your resume. If they are indeed requested in the original job posting and fit neatly on the bottom of your resume then go for it, just make sure they are strictly professional references. Never use family members (including grandparents, children or cousins) as references as this will make you appear unprofessional.
*If your references are many or are requested after your initial application create a separate references document that you can include with your resume.
72. Resume includes expired licenses/certificates
Although it's tempting to include expired licenses and certificates to beef up your resume, the fact that they are expired makes them irrelevant. They do not serve as indication that you still have the skills necessary to earn the license/certificate.
73. Don't explain employment gaps on the resume itself
If you have employment gaps, you should not explain those gaps on the resume, but merely label them. There are labeling strategies that you can use to help the hiring manager understand why you weren't professionally employed during those gaps. Explain those gaps further in your cover letter and interview.
74. Resume lacks technical specifics
Especially in industries like medical or science, if your resume doesn't clearly explain the technical skills that you perform, or does so only generally, the hiring manager may think that you lack the skills necessary to do the job.
75. Resume includes your nickname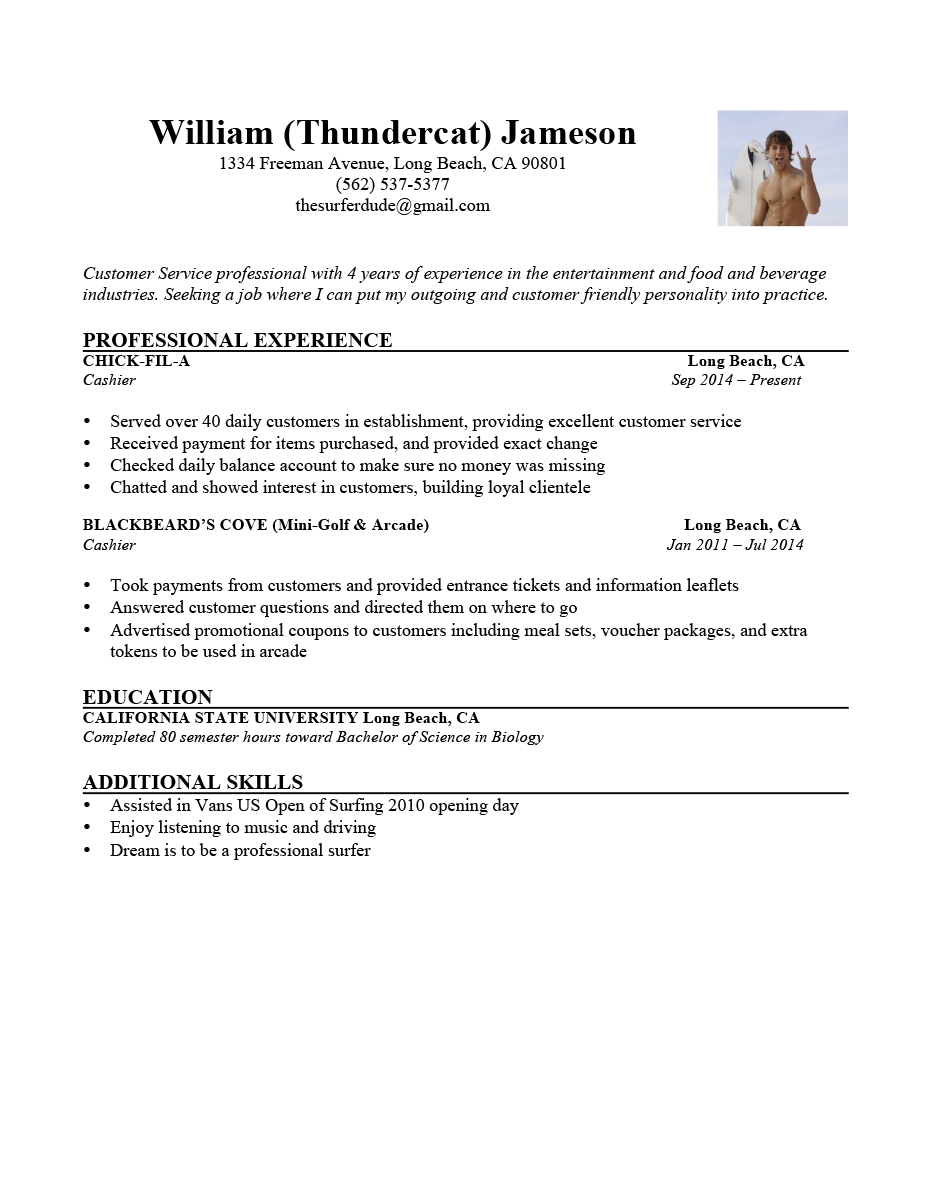 As cool as your nickname might be, calling yourself Earl "The Boss" Jenkins on your resume will not work in your favor.
76. Don't hand-write your resume
If you don't own a computer, you should go to a public library or some other facility to write out your resume and get it printed. The exception to this rule is if the company gives you a preformatted sheet to fill out — go ahead and fill that out with pen, in legible handwriting.
By the way, if you think that this suggestion is too obvious, we invite you to take a look at this Google search.
77. Don't make a video resume
Video resumes, unless they are extremely well done, tend to sound tinny and look unprofessional. There's a reason that media is an expensive and costly industry — it takes a lot of different attributes working together to make someone look good on camera. (Lighting, makeup, acting skills, good technology, good editing software, etc.)
78. Don't include your age
Including your age is unprofessional, and may work against you if you're an older or younger candidate (or even a candidate of any age who doesn't "fit" with the hiring manager's ideal.) Let your work experience and education speak for itself.
79. Don't include your gender
Your gender is also irrelevant to the job search process, and will probably be guessed at by your name anyway.
80. Don't include marital status
It is actually illegal to ask a candidate if they are married during an interview. Actually, an interviewer who asks any questions related to a person's "protected classes," including age, race, religion, marital status or sexual orientation can be sued by the Equal Employment Opportunity Commission.
81. Not listing where you will be residing
In a globalized world often times job positions will open up outside of your current city, state or country of residence. When applying for jobs out of city/state/country many people get confused as to what address should be listed on their resume.
While some fear putting a non-local address on their resume will harm their chances of landing an interview there are a few ways to work around this.
One way is to make explicitly clear in your email and cover letter your desire to relocate. Another way is to put a local address if you have a close friend or family member that you can use as the address. While this is technically a white lie it is not entirely false if you fully intend and have the means to relocate to the city in which the job is being offered.
82. Not creating multiple language versions
When applying overseas it is often necessary to include multiple versions of your resume. For example, if you are an American applying for a full time position in Paris you should include both a resume in both English and in French.
While English is indeed the "international language" it is considerate to send a version in the local language of the region you are applying as assuming all readers of your resume are professionally-proficient in English is slightly inconsiderate.
83. Folding it in the mail
if you are mailing your resume out, buy a large envelope so that you can mail out your resume without creasing it. This looks far more professional.
84. Not bringing multiple copies of it to interviews
The biggest mistake you could make after carefully crafting a killer resume is not bringing enough copies for all those present at your interview.
There is no way to know for sure ahead of time how many people will be interviewing you so assuming it will only be one individual is a little reckless. Instead, print at least 4 copies of your resume, enabling you to provide up to 3 interviewers a copy while keeping one for yourself. This will prepare you for any and all interview situations.
85. Stapling or taping when you should be paper clipping
As it is a professional document on which your future professional career may hinge, treat your resume with a great deal of care. Never staple a resume, or worse yet, tape something to it. Staples and tape are not for professional documents.
Instead treat your resume like the piece of professional art it is, keep it safe in a manilla folder and if you must group pages, do so with a non-destructive paperclip.
86. Paying a non-certified writer to write it for you
Find a writer that is NRWA and/or CPRW certified, this is the only way to help ensure the knowledge of the person writing your resume is up to industry standards. Even so, it's good to do a search on the person to make sure they are trustworthy and dependable
Here is a list of NRWA certified writers by industry
87. Forgetting to attach it to your email
Google just recently built into its email a function that reminds you to attach something if you have typed the word "attached" in the body of the email. This doesn't mean you should rely on such functions though.
Many email clients won't remind you to attach your resume, and there is nothing more embarrassing than having to send two emails because you forgot to attach your resume to the first. Double check the whole message, the recipients, subject line, text body and attachments before sending off any professional email.
88. Not following up with your resume
Just writing and sending your resume off via email or in a letter is not enough. These days it's expected you follow up with your application with a email or phone call, not just to confirm that the employer received your resume but also to ask if they had any questions and express your desire to discuss the job more in person. By calling or emailing after sending your resume you are indicating persistence, diligence and strong desire to get that job.
Job Search ADVICE
89. Failure to make a timeline
A resume should not just be a roughly organized collection of random events and experiences. Instead, events in your resume should build and point to a destination; that being the position you are applying to. Resumes that lack direction fail to convey to an employer that they are the next step and not just another random experience.
90. Including overly obvious information
A resume should be a succinct and concentrated document, detailing only your most relevant and applicable skills. By wasting space on the page you are wasting the employers time and reducing your chances at landing an interview.
91. Forgetting to explain the relevance of your skills
Just including one word skills without relating to how they will be beneficial to an employer is a common mistake. For example, just saying "communication skills" without relating to how they were applied to improve customer satisfaction in a service position is a disservice to your achievement. A better example of making skills relevant would be: "applied exceptional communication skills to reduce chargeback rates by over 50% annually."
92. Failure to customize your resume for the job
If the positions you are applying to are all identical then sending identical resumes is acceptable, however if the positions vary at all your resume should vary as well to match. Failure to tailor your resume to the position makes it less relevant than somebody else's who has taken the effort to customize their resume.
93. Not solving a problem
Sending a resume without solving a problem is like saying "hello" at an introduction without mentioning your name. Employers post vacancies and seek talent because they have a problem that needs to be solved. Identify that problem, how you are the right person to solve it and put this in your cover letter and interspersed via relevant bullet points throughout your resume.
94. Prematurely discredit non-paid experiences (volunteer and internship work)
Including volunteer experiences and internship experiences can illustrate many of the same things that work experiences illustrate such as reliability, skills learned and exercised, and professional demeanor, not to mention excellent references should the vacancy call for them.
95. Not selling yourself
Remember, a resume is a self-centered document where you are encouraged to brag about yourself (supported with evidence) as much as possible in an effort to "woo" potential employers.
Don't treat your resume as a mere sample of your professional experiences. Instead, pretend that you're an agent for yourself, and explain to employers why they must sign you over everybody else. Don't be afraid to sell yourself.
96. Not scrutinizing job ads thoroughly
The job ad that you are applying to is your key to writing a tailored resume. Read the ad to the point where you memorize it, as this little bit of information is all you have to reference when trying to make a highly relevant resume.
Make sure your resume is a reflection of the ad, reflecting as many of the expected responsibilities/desired skills as possible so as to appear to be the perfect missing puzzle piece.
97. Forgetting to update your resume frequently
As a result of forgetting to update your resume frequently you are will also probably end up forgetting to include some of your great achievements. Time and memory loss are your enemies when trying to write a document that summarizes your entire adult life.
By keeping your resume file handy, perhaps stored in the cloud so that it may be accessed from anywhere, you can easily add to it whenever you accomplish something noteworthy. This will all pay off when you do look for employment and find yourself with a fully updated resume ready to be sent out to employers.
98. Lacking direction
Resumes are the the spearhead of your job search. For this reason they must be targeted and ordered. Don't just scatter random information about the page. Make sure every experience and skill is in it's appropriate section. Make sure you communicate a clear professional focus with your resume, so employers will have no question as to what you are seeking.
99. Including too much irrelevant information
Including hobbies that are unrelated to the industry, personal information like political or religious affiliation or completely non-related skills and certifications such as firearm safety for positions unrelated will dilute your resume. Only include position-relevant information only and keep your World of Warcraft skills confined to your mother's basement.
100. If you're in high school, don't stress out over your resume
All too often young people worry far too much about writing their first resumes. They worry about not having enough professional experience, developed skills or filling up an entire page.
In actuality, many first time jobs don't even expect professionally written resume! Many retail jobs and service industry jobs have gone completely digital, allowing applicants to apply online, in the store.
101. Forgetting to Back Up Resume
Resumes can be tedious to craft, so when you're finished, be sure to keep it safe. Store it on a thumb drive, your hard drive, or best of all, keep it saved in the cloud so that you can access it from anywhere.
102. Forgetting to put resume online
In the 21st century, it's important that your resume is searchable. The most critical place to have your resume uploaded to is Linkedin, where recruiters will be able to find you via keyword searches. Other websites, like Monster and CareerBuilder, can also be helpful. Check out this review of the top job search engines online.
103. Failing to have read this entire list of resume tips
If you are too lazy to have read the above 102 common resume mistakes and pitfalls then you are probably the type of person who will be too lazy to craft a perfect resume. If that is the case try rereading the list or just paying someone to write your resume for you. Good luck!