Thank You Letter After an Interview
1. What is a Thank You Letter?
This is a short document (or email) written to the hiring manager after your interview. It should be sent within 24 hours after your interview, and no more than a single page. Your letter needs to be well written, non-generic, and memorable to the hiring manager. Sending one signifies that you're a solid professional that is courteous and thoughtful.
Another situation in which you want to express gratitude is when you resign from a position. Check out our comprehensive resignation letter template database for formatting your letter and more.
It's a necessary closing act to the job search process. Given that less than half of applicants send one, it's an easy way to beat your competition.
Click Here to Download
Our Thank You Letter Checklist
---
2. Download a Free Template and Sample
Template
Copy our Template to get started right now:
Your Name
Your Address (Street, City, State, Zip Code)
Your Phone Number
Your Email Address
Hiring Manager's Contact Details:
Their Name
Title
Company
Address (Street, City, State, Zip Code)
(Month, Day, Year)
(Dear Mr./Ms./Mrs./Dr.),
1st Paragraph – Thank the interviewer for their time, and express your appreciation for the interview.

2nd Paragraph – Explain why you're a good candidate for the job. List the skills that make you a strong choice for the position. If at all possible, use examples that came up during the interview and expand on them.

3rd Paragraph – If you weren't able to discuss part of what makes you a good candidate during the interview, use this space to further explain. You can also use this space to clear up any misconceptions, or rough spots during your interview.

4th Paragraph – Express your appreciation for the interview again, and thank the hiring manager for their consideration. Tell the hiring manager that you look forward to hearing from him/her.
Best Regards OR Sincerely,
Your Signature (Typed or Handwritten)
All put together it should look like the image below: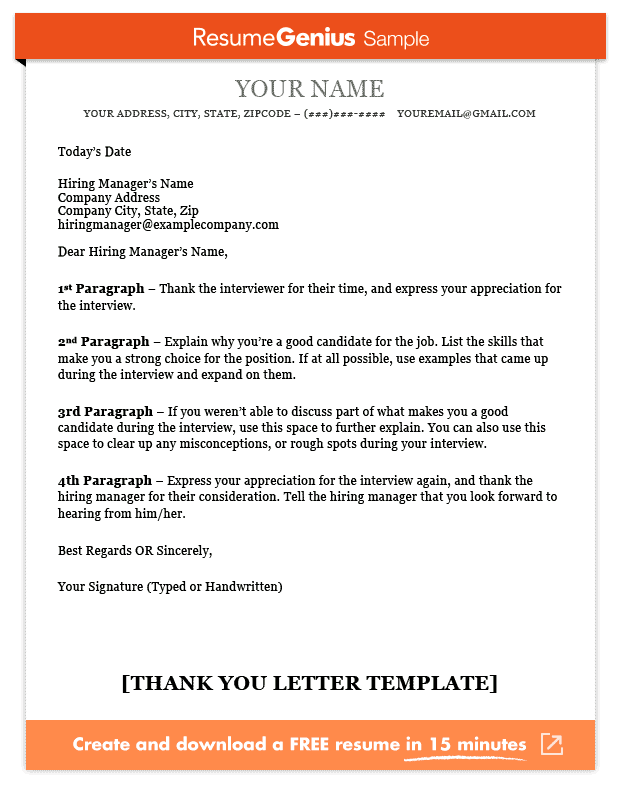 Sample
If you want to see how to word a well-composed letter, check out our sample:
Email Address: hiringmanager@resumegenius.com
Subject Line: Pauline Delaney – Thank you for the interview this afternoon! 1/21/2016
Dear Mr. Johnson,
It was a pleasure to meet with you and Ms. Ryan earlier today. I appreciate you taking time out of your day to speak with me about the Career Advisor position at ResumeGenius. I was especially impressed to hear about ResumeGenius's 50% growth in the past two quarters, as well as your near perfect customer service record.
During the interview, you asked how I could help assist job hunters in finding the perfect career. I told you my experience as a hiring manager at Resume Companion equipped me with great insight into not only how potential employees should approach the job search, but also what HR specialists are looking for. However, I would like to expand a little – I looked through my records after the interview and saw that I received 750+ resumes during my tenure at Resume Companion. I also found that I conducted over 60 interviews. This high volume of exposure to applicants taught me the difference between prepared and competent candidates versus those who weren't as strong.
Specifically, I learned much of what your resume writing guide already outlines. However, I would also recommend taking a look at Resume Companion's writing guide as well. I was instrumental in putting that article together, and it has some useful insights.
I'm very much looking forward to hearing back from you by next Friday as we discussed in our meeting. I am positive I would be a great addition to your team and am excited at the prospect of joining you. Thanks again for your time and consideration.
Sincerely,
Pauline Delaney
And to see how it looks on paper: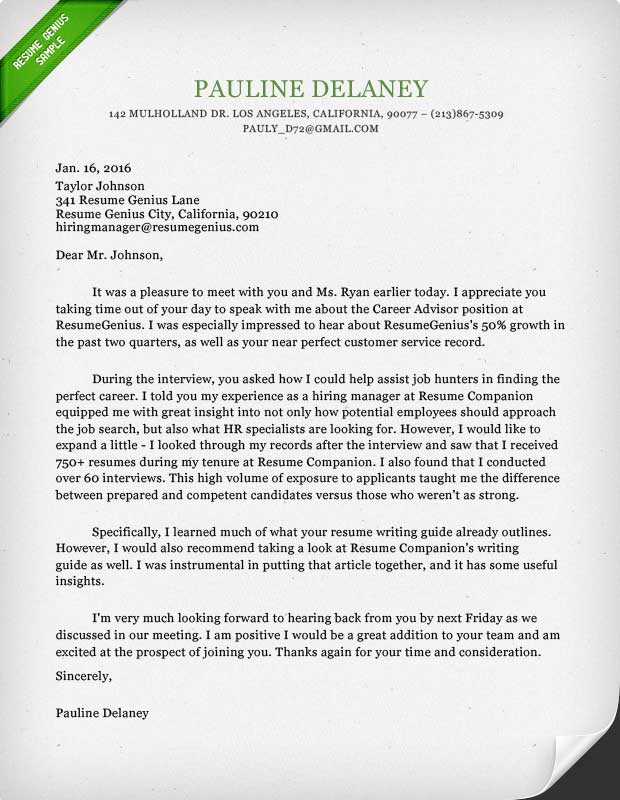 ---
3. How to write a Thank You Letter after an interview
Intro to this section
A tricky dilemma faced by applicants deciding how to thank an interviewer. This is hard because different hiring managers might have different expectations, companies might have different cultures, or your personality just doesn't suit some kinds of responses. Here is our list of methods for following up, the pros and cons of each tactic, and how to compose your message.
  Email
Emailing is the most simple and most common method. As such, the follow up email has some clear benefits as well as drawbacks.
| Pros | Cons |
| --- | --- |
| Easiest of all the options (as you've probably emailed the company before anyway) | Can look like you aren't putting forward as much effort as you could |
| Quickest to write and fastest way of getting in touch with an interviewer | May look informal to some interviewers or hiring managers |
| Most reliable way to make sure your follow up is seen | Easy to overlook mistakes and send without revising completely |
How to write your email after the interview
Your outline could be:
Introduction
Context
Purpose
Personal connection
Reiterate thanks
Reiterate interest and how you'd be a great fit
Looking forward to hearing back by which date
Also remember:
No larger than 12 point font, no smaller than 10
Use a normal font – Arial, Times New Roman, Verdana, etc. No Comic Sans, ever.
Avoid anything besides black text – emojis, florescent colors, highlighting, all caps, etc., are usually tacky
Brevity is fine, but more than one or two lines
The breakdown of an email looks something like below: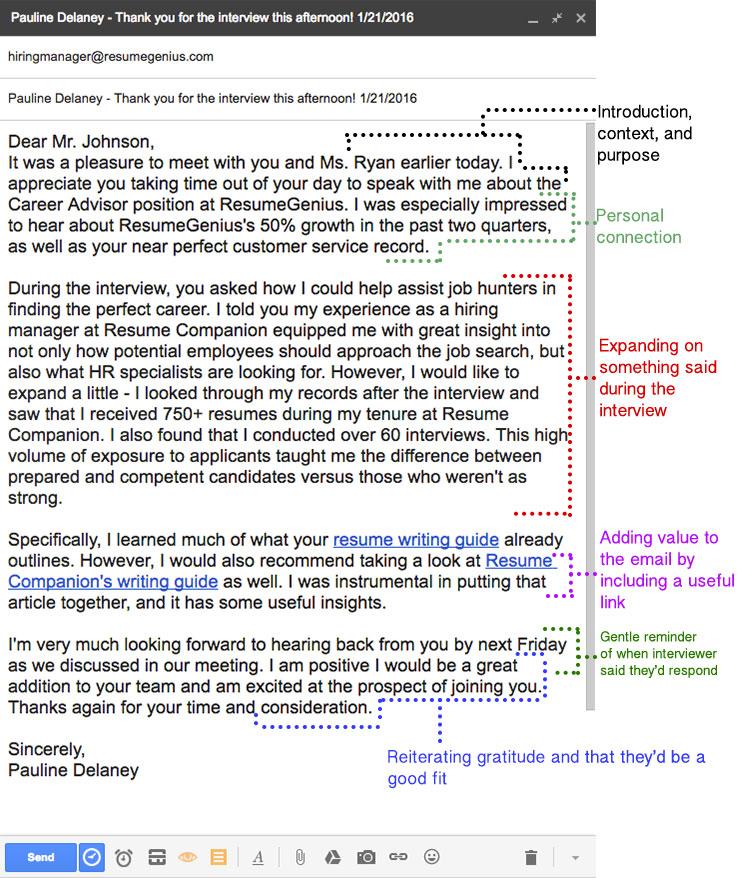 Letter
This is the most traditional and time-honored method for following up. If you are applying for a well-established, more traditional firm, use the letter method. If it's a very formal situation, consider hand-writing the letter on high quality paper. Do it immediately after an interview and either deliver it in person or get it in express mail ASAP.
| Pros | Cons |
| --- | --- |
| Looks the most professional | Can take a long time to get to the company |
| Communicates to interviewer that you are the "real deal" | Hard to ensure the interviewer receives it |
How to write a post-interview letter
Your outline could be the same as for an email:
Introduction
Context
Purpose
Personal connection
Reiterate thanks
Reiterate interest and how you'd be a great fit
Looking forward to hearing back by which date
Also remember:
No larger than 12 point font, no smaller than 10
Use a normal font – Arial, Times New Roman, Verdana, etc.
One inch margins
No more than double-spaced lines
Hand-written letters should be legible, in black ink
  Phone call
The direct phone call to a hiring manager can also leave a strong impression. Be careful though – this method isn't always appropriate.
| Pros | Cons |
| --- | --- |
| Interviewer can hear your voice | Can be kind of awkward |
| Comes across as direct and confident | Interviewer might not be available |
| Shows effort | If not available, difficult to know when and if to call back |
How to follow up with a phone call
If you can, ask for the hiring manager by name. Do your research. If not, ask for "the hiring manager."
Be friendly.
Identify yourself first thing. State your name, then your purpose, e.g., calling to check on an application, calling to say "Thank You" for an interview, etc.
Avoid word-vomit. You will likely be anxious and want to get out everything you say. Be measured, wait for them to finish speaking, and don't hog the conversation.
Call at convenient times. Morning or mid-afternoon are best. Don't call right at 4:59.
If it helps, prepare a script. Avoid reading directly from your script however. Think of them as "notes."
If the hiring manager or interviewer isn't available, leave a message and don't call back for at least a week.
If your call was to thank the interviewer for an interview and they weren't available, send an email at this point.
  Card
The card functions like the letter, but adds a more informal and personal touch to the process. Cards can be small and straight-forward, or they can be a fun way to show a little bit of personality. Obviously gauge the company and interviewer as to how they may respond, but cards have proven useful to many applicants.
| Pros | Cons |
| --- | --- |
| Flexible in its presentation | Can take a long time if you mail it to interviewer |
| Easy to display personality | Might come across as tacky |
| Can shorten amount of writing needed | Hard to make sure interviewer receives it |
How to write a card
Choose the right card. If you want to go with something humorous or silly, make sure that matches the personality of the company or interviewer. When in doubt, play it safe.
Don't write too much. You should only use a card if you don't have so much to say beyond "thanks" and that you're very interested in the position.
Like the letter, you can prepare a card before an interview and then write it immediately afterwards.
As you will probably have to write a card by hand, make sure your handwriting is legible and neat. If it's not, then avoid sending a card.
Avoid making a card on your own, unless you can do it at a professional level. Otherwise just buy one – you don't want to come across as tacky.
If you decide to buy a gift, make sure you send a card as well.
  Gift
This one is the riskiest and most expensive, but it also lays it on thick that you want a position.
| Pros | Cons |
| --- | --- |
| Most creative and open-ended option | Can seem like pandering or a bribe |
| Opportunity to give something useful and thoughtful | If it's too cheap it can look bad, if it's too expensive it can look awkward |
| Features a strong "wow" factor | Doesn't directly address what occurred during the interview |
How to follow up with a gift
Pick something the interviewer will find useful or related to the function of the company
If you send something general (a gift basket, candles, etc.), make sure you also include a card expressing gratitude as well as identifying yourself.
Don't go overboard – the gift tactic is highly delicate, and for most interviews we don't recommend it. However, if the interview process has been an exceptionally long one, and if you have developed a relationship of sorts with the organization, a gift could be appropriate. Just don't spend too much or buy something inappropriate (like flowers or gag gifts).
Which is best?
"So," you might be asking, "which option should I use? Which is best?"
In our collective opinion, we recommend an email first, and a letter second. The email is a surefire way to make sure you get seen and can efficiently convey your thoughts about the interview as well as your gratitude.
The letter does this as well, but it really should mostly be used in the most formal of interviews. Think finance and law, not tech and service. However, we can't be there to judge every situation, so use your best judgment, think about the personality of the interviewer and the culture of the company, and pick the best option for you.
One word of warning – don't pick more than one. Just like giving a gift can seem like too much, an email and a letter can seem like you are kissing up and kind of begging for the job. Choose one option, do it well, and let it be.
---
4. Additional Tips
Make it professional.  If you made a personal connection with the hiring manager during your interview, you can make a reference to it — but don't overdo it.
Make it concise. When detailing the reasons you'd be a strong candidate, keep in mind that you'll just want to include the major highlights. Your letter should be used as a gentle reminder.
Make it interesting. Don't write a generic thank you letter simply thanking the hiring manager for the interview, and giving him/her vague statements about your abilities and skills. Be specific and reference the conversation you had during the interview.
Make it well written. Make sure you've edited out all spelling and grammar errors. You don't want to leave a poor final impression due to careless mistakes.
Just because your email or letter is only the third most important document in a job application (after your cover letter and resume) doesn't mean you should pay it any less attention. In fact, having a strong letter ensures you will leave a good impression in the mind of the person who interviewed you.
Whether by email, phone, Skype or in person, it is an expected form of professional politeness to include a follow-up to: A.) Recap your strengths as an applicant, B.) Thank the interviewer for their time, and C.) Express anticipation for a follow-up. 
---
Not what you're looking for? Try: